Safety Protocols
THE CENTERS OF DISEASE CONTROL AND PREVENTION (CDC) RECOMMENDS SOCIAL DISTANCING TO PREVENT THE SPREAD OF THE COVID-19 . FOR YOUR SAFETY. PLEASE KEEP AT LEAST 6 FEET AWAY FROM OTHERS.
General Objectives
The general objective for all students is to recognize that tennis is a game, and we play tennis for and with the love of the game. The objective of the game is not only to win, but to enjoy playing, and enjoy yourself, winning will come as a result of this. When you enjoy playing, you will organically learn better, play better, try harder, and the coach will enjoy teaching you, while your parents enjoy watching you.
The coach doesn't expect the student to be able to learn tennis quickly however, they do expect to see you trying as hard to develop as a tennis player. Students will be committed to tennis not because they have to be, but because they themselves want to grow, have fun, and have ambition for the sport. It is important to have a positive attitude, even when you can't win, in order to learn from the experience and bring it into your future experiences. Having a negative attitude will not lead to any form of benefit, it will only add factors such as stress, and doubt to your game.
Never stop believing in yourself.
News Board
THE 2023 SUMMER CAMP WON'T BE HELD DUE TO A LOW NUMBER OF PARTICIPANTS
The Latest Photo
Videos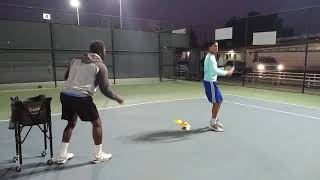 Clinic Rates
Packages for clinics must be purchased separately for each student
| Clinic | Rates |
| --- | --- |
| Drop in | $70 |
| 4 Pack | $268 |
| 8 pack | $512 |
| 12 pack | $732 |
Discounts
If you have need to receive a quote ask one of our coaches for an estimate
The first clinic a player attends
50% off the class
Family member discount
(applies to all additional family member's pclinics attending classes)
15% off one player's package and drop in fee
Friend Referral
15% off one clinic
for the player who is referring the clinic to their friend.
Contact Us
PLEASE FILL OUT THE FORM AND WE WILL GET BACK TO YOU